Allergic rhinitis is the result of an excessive reaction of the immune system to a foreign substance to the body, known as an allergen. There are many allergens and sensitivity to one or another varies among individuals.
THE 4 MAIN TRIGGERS OF ALLERGIC RHINITIS ARE:

Pollen from plants/trees, which lead to what is commonly known as hay fever
Moulds
Animal hair
Dust mites
Upon contact with an allergen, the overly sensitive body of an allergic subject triggers an inflammatory reaction to defend itself. It releases histamines and other inflammatory substances, leading to the dilatation of blood vessels and increase in secretions, that are the symptoms of allergic rhinitis.
THE MAIN SYMPTOMS OF ALLERGIC RHINITIS:
Repeated sneezing
Nasal discharge
Itching
Nasal irritation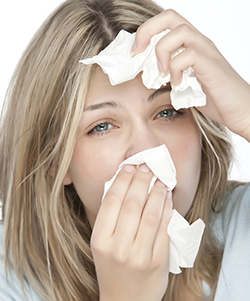 HOW MANY PEOPLE ARE AFFECTED?
Allergic rhinitis was believed to affect almost one third of the French adult population in 2006.
Epidemiological data shows that more than 15% of subjects aged 15 to 50 years have allergic rhinitis caused by pollen: this is what is known as "hayfever". Worldwide, allergic rhinitis is believed to affect 10 to 25% of the population and its prevalence is constantly on the increase.. This makes allergic rhinitis the most common allergic disease.
ALLERGIC RHINITIS, TAKE IT SERIOUSLY:
Respiratory allergies have a considerable impact on daily life: disturbed sleep, tiredness, poor performance, bad mood… Left untreated, allergies can become a genuine obstacle, especially for teenagers and children during exam time or schooling.
Untreated allergic rhinitis may deteriorate into asthma:
20 to 40% of patients with allergic rhinitis have asthma
80% of patients with asthma have allergic rhinitis
Sources:
http://www.inserm.fr/thematiques/immunologie-hematologie-pneumologie/dossiers-d-information/allergies
CFOA, March 2009, Press Kit, moderate to severe allergic rhinitis, the true face of the handicap.