WHAT IS A BLOCKED NOSE?
Often a consequence of rhinitis or allergy, it is an inflammatory reaction. The blood vessels in the nasal mucosa dilate, leading to inflammation of the nose and excessive mucus production. This phenomenon appears especially in the wintertime (colds and sinusitis) or during spring (hay fever).
HYPERTONIC SEA WATER, A NATURAL REMEDY FOR CLEARING THE NOSE:
An hypertonic solution like Humer Blocked Nose has a higher salt concentration than that of the human body (23 g/l vs. 9 g/l): spraying it into the nose displaces the interstitial fluid through the membrane of the nasal mucosa, through to the nostrils. Movement of the fluids decongests the nasal mucosa : the nose becomes unblocked, inflammation is reduced.
A safe and effective treatment for nasal congestion during colds, allergic rhinitis or sinusitis like Humer Blocked Nose can be used for infants over the age of 3 months.
OSMOSIS IN BRIEF:
Natural movement of water through a semi-permeable membrane, the water passes from the most concentrated medium to the least concentrated medium until the concentrations are balanced.


Hypertonic saline solution: The solution has a higher salt concentration than that of body fluids. It therefore reduces swelling of the nasal mucosa and fluidifies nasal secretions.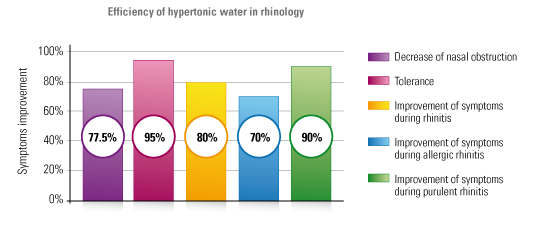 Sources:
http://conservationdusel.free.fr/page4.htm
1998 – Revue officielle de la Société Française vol. 50 n°4 (Official Review of the French ENT Association).
Study on 80 patients suffering from nasal congestion, use of hypertonic seawater 3 times a day during 2 weeks. Evaluation of the improvement of symptoms between 0% and 100%.